Evolution Aqua have developed a brand new range of ultraviolet lights, named the evoUV. The evoUV range looks set to take the pond world by storm.
Evolution Aqua have developed a brand new range of ultraviolet lights, named the evoUV. The evoUV range looks set to take the pond world by storm.
They have been met by a genuine sense of excitement amongst aquatics dealers, and we are sure that once Koi keepers and water gardeners see the evoUVs for themselves, they will be impressed too!
It has to be said they look really impressive. The styling of the models has a contemporary look, and they will sit perfectly alongside Evolution Aqua's current range of filters, complementing them for style and quality.
There are 5 Evo Uv that are in the range. The Evo 15, Evo 25, Evo 30, Evo 55 and Evo 75. This broad spectrum means that many pond owners will be able to add the new UVs into their current set-ups.
Other unique features of the Evolution Aqua evoUV include:
1.5 inch inlet and outlet on all models
Electronic Ballast
Higher reflective index than stainless steel
Design gives less head loss than other manufacturers models – saving energy costs.
The evoUV units can be mounted both horizontally and vertically
IP Rating IPX5
2 year warranty
Made in the UK
Evolution Aqua's evoUVs will be the perfect solution for pond owners looking to eradicate green water. One of the major benefits of Evolution Aqua's evoUV range is the build quality, as they will be manufactured from the same polymer as used on the tried and tested Nexus, Eazypod and Cetus. This means that this hard wearing UV stabilised PE will offer a higher reflective index than a stainless steel body and will ensure that the bulbs and ballast are securely protected.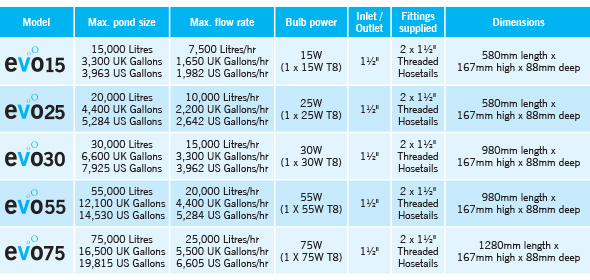 All new professional UV clarifier range.

The new Evolution Aqua evoUV deliver a more efficient and more economical performance than before thanks to their new design.

The new range includes completely redesigned 30 Watt and 55 Watt models, a new 15 Watt and 25 Watt model perfect for use on the smaller garden pond, along with a 75 Watt version.

5 models including a 75 Watt UV

The top end 75 Watt model is designed for ponds up to 75,000 litres. The highly efficient ballast and high output 75 Watt UV bulb provides a more economical option than a traditional 110 Watt UV due to the greater UV contact time offered by the 1.2 metre bulb – ultimately saving you money!

The evoUV pond clarifiers are manufactured in house by Evolution Aqua, continuing our long tradition for manufacturing exceptional pond filtration equipment right here in the UK.

More efficient design

The design of these new UVs optimises flow rates and improves energy efficiency, with the sole focus to deliver optimum performance at all times to clear green water in ponds which is caused by single celled green algae.

evoUVs will work alongside many different filtration systems and are incredibly easy to install with flexible hose or hard pipe and can be easily fitted within existing pipework runs.

All evoUV models come with high output UV bulbs powered by energy efficient ballasts, all housed within a fully watertight, robust housing.
We aim to dispatch orders received before midday Monday to Friday on the same day where possible. In most cases our items are available for 1 to 2 day delivery at a competitive price and are trackable via DPD or APC.
Delivery costs for standard items in the UK - £5.95
(Surcharges do apply to remote postcodes)
Heavy items - £9.95
Pipe - £14.95
Palletised items - Some large oversize products, typically items weighing more than 30kg, may require delivery via pallet. Standard Pallet charge is approx. £50.00. To ensure there are no delays with delivery, please include a contact number when placing the order.
Overseas – DHL and UPS, cost based on weight / volume at checkout.
Below is a list of documents that you may find useful.
Can't find what you're looking for? Call 01777 839176 or use our contact form